Plenty is a creative design studio based in Byron Bay, offering branding and web design to small businesses around the world.
Plenty was born in the beautiful Byron Bay, Australia, in 2015, and have since helped dozens of business owners – locally and globally – take their brands and websites to the next level.
Getting your visuals to reflect what your business stands for is easier said than done. That's where we come in – to help build a brand that represents your vision and converts.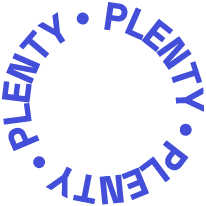 We are a team of solution-driven creatives – helping small businesses clarify and communicate their core message to their ideal audience. The result? Memorable brand experiences grounded with purpose.
Camila is the founder and creative designer behind Plenty. She looks after all things design – both brand and web. Camila has been living and breathing graphic design for the last 10 years, helping entrepreneurs turn their ideas into authentic brands⁠. She is fuelled by helping brands share their true value.
We could say Lucas has been part of the team since the very beginning. In fact, he was the one who came up with the name Plenty when Camila started her business! Lucas has officially joined the team bringing his entrepreneurial skills to help with client care and business growth strategies.
Camila at By Plenty was excellent. I was instantly impressed with the options and packages available on her website and could see Camila had plenty of experience. Camila was informative and clear every step of the way. The journey to create a website and re-brand was enjoyable and exciting. Highly recommend By Plenty.
Annabelle Cohen
09/08/2022
Camila was a dream to work with- not only were her designs beautiful, but I also appreciated the time she took to understand my vision whilst providing targeted feedback to ensure I was thinking about the re-launch of my 100 year old brand in a wholistic way. Camila is incredibly well organised and punctual- she delivered on or ahead of schedule for every aspect of the project and made sure I was comfortable throughout the process. I never felt rushed and no ask was too big. I received incredible value for money and can't wait to partner with Camila again when she designs the packaging for my products. 5 stars!!!
I highly recommend Plenty Design. Camila is knowledge, professional, intuitive, easy going, patient and responsive. Although what I enjoy the most about her work, is that she can create magic by transforming my ideas in images and concepts for my website and branding. I couldn't be happier with the solutions I got for my business.
Lucimara Girardi
05/06/2022
Plenty Design not only created our brand, logo and website at The Hut but also guided us on targeting our right market, adding value and identity to our business. Camila is great to work with it. Always very helpful and patient.
Augusto Pedroso
02/11/2021
I'm so glad with the services Camila provided. With starting my small business I was a bit worried my vision would go lost but Camila got me from the start and added so much more. I loved learning about certain decisions that support the brand more than looks only. She is easy to communicate with, fun and efficient. Hardly recommend 👌🏾
I'll keep this short...I highly recommend you work with Camila! Our logo is a Plenty design which conveys our brand perfectly - people love it and if they are not ready to buy a bike they buy our merch! It was designed in a short period of time with some other options to compare it with. Camila nailed the brief quickly and our brand standout from the crowd. Re our website, we had a strong idea of what we wanted in the sites look and feel. A very thorough design process with timelines to keep us on track with providing content and images meant we had a site from nothing to as it is now pretty much within several weeks. She is all about brand, and keeping us on track with our brand package as a whole. Visiting our store a few times meant she could feel what we were starting and where we want to grow to. Definitely give Camila a yell (that wasn't very short was it?).
I had a fantastic experience working with Plenty Design. Camila interpreted my ideas flawlessly and effectively delivered a package that was perfect for my business. Wonderfully professional and personable.
Camila from Plenty Design designed a website for me. She very quickly understood what we wanted and created a user friendly and stylish website for our business. I will be using her again and would highly recommend her.
I highly recommend Camila's services. She is very creative and very good at what she does. I'm a small Amazon FBA seller and Camila helped me with my storefront graphics, website, social media and product packaging. Love her work and her attention to detail. Camila gave me tips and great insights about my branding and graphics. She was very helpful and delivered social media templates so I will be able to make my own artwork on Canva. She proactively suggested SEO optimization so my website can be found on Google searches and was very helpful with setting up a Google Analytics account so I can track my website performance and conversions. Thanks Camila for your amazing work! Will definitely recommend to any small business owner who needs advice and help with branding and website.
Camila did a great job with understanding the briefing of my business and delivering it above my expectations. She is very creative and I can't recommend her services enough. Camila has very good communication and problem solving skill together with high technical and web design competence. Very happy!
Pedro Da Silva
01/08/2021