Plenty is a creative design studio based in Byron Bay, offering branding and web design to small businesses around the world.
Plenty was born in the beautiful Byron Bay, Australia, in 2015, and have since helped dozens of business owners – locally and globally – take their brands and websites to the next level.
Getting your visuals to reflect what your business stands for is easier said than done. That's where we come in – to help build a brand that represents your vision and converts.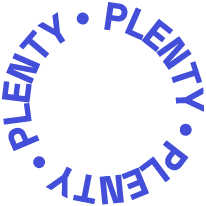 We are a team of solution-driven creatives – helping small businesses clarify and communicate their core message to their ideal audience. The result? Memorable brand experiences grounded with purpose.
Camila is the founder and creative designer behind Plenty. She looks after all things design – both brand and web. Camila has been living and breathing graphic design for the last 10 years, helping entrepreneurs turn their ideas into authentic brands⁠. She is fuelled by helping brands share their true value.
We could say Lucas has been part of the team since the very beginning. In fact, he was the one who came up with the name Plenty when Camila started her business! Lucas has officially joined the team bringing his entrepreneurial skills to help with client care and business growth strategies.